Family's full-court press to defeat brain tumor scored extra time for Joe Smeeding
It was early March 2016. For basketball fans like Joe Smeeding, March Madness — the National College Athletic Association (NCAA) Men's Basketball Tournament — made it one of the best times of the year.
Smeeding was on leave from his doctoral economics program at the University of Arizona and visiting his mother, Mary Ann Laubacher, a registered nurse who had recently relocated from Syracuse, N.Y., to Twentynine Palms in Southern California for a new position.
Laubacher said his school break was precipitated by symptoms of mania that were thought to be due to bipolar disorder.
Together, they ate Thai food, stargazed from a hot tub and relished watching fierce college basketball. During the games, Joe would exchange texts with his father, Tim Smeeding, and brother, Patrick Smeeding, who lived in Wisconsin and Massachusetts, respectively.
"We were all about sports," says Tim Smeeding. "It's what we had together. I could watch basketball in Madison, Joe could watch in Twentynine Palms, and Patrick in Boston. We'd have running commentary. It connected us."
Troubled by a blinding headache
Although Joe Smeeding was enjoying the college competition, he couldn't seem to shake the lingering effects of a blinding headache he'd experienced a few weeks earlier during a visit with his dad in Madison.
"Two days after he arrived in Twentynine Palms, he called me at work and said, 'I'm really sick,' says Laubacher. She headed home to find him wrapped in a blanket, his body shaking and his face the color of wax. She took him to the closest ER, which was in Joshua Tree. There, doctors ordered a CT scan of his head.
"We got there at 3 in the afternoon. By 7, they were putting him in an ambulance to Desert Regional Medical Center with a CD of his CT scan. Initially, the neurosurgeons in Palm Springs thought he had a cyst. But I think it's very likely they knew from their first look at the scan that it was a glioma."
Smeeding had a malignant brain tumor — a diffuse midline glioma with a rare mutation referred to as histone H3-K27. They told her that the median survival time was nine months. He was only 24.
He had his first surgery that March.
"I hung his Syracuse University flag in his ICU room and we watched every game we could together," his mother says. "All the doctors knew that his blood type was Syracuse Orange."
Basketball was a sustaining force for Smeeding throughout his treatment. He routinely organized his fantasy basketball league and, according to Laubacher, usually won.
When Laubaucher wasn't by her son's side, she worked as a behavioral healthcare facilitator at a military hospital. By day, she provided telephonic support for patients with anxiety, depression and post-traumatic stress symptoms. At night, she had to coach herself through many of those same symptoms.
Searching for life-saving treatment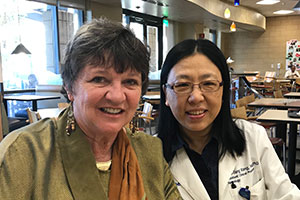 Mary Ann Laubaucher.
In quiet hours, she also searched for a treatment that might extend her son's life. She explored brain tumor studies online, wrote to leading brain tumor researchers across the nation and talked with experts by phone.
This networking led her to UCI Health neuro-oncologist Dr. Xiao Tang Kong and the UCI Health Comprehensive Brain Tumor Program.
"The day we met Dr. Kong changed our lives for the better," Laubacher says. "She told us that Joe had two years, but that every day she saw magic happen. She gave us hope that it [the magic] might be there for us. She saw to it that he got a chance."
The glioma was both aggressive and difficult to remove surgically, according to Kong. She prescribed a special cap that is used with radiation and chemotherapy to treat brain tumors in adults.
"He wore that cap religiously," says Tim Smeeding. "He knew it was important. And it worked for a while. But he was fighting an uphill battle." 
Kong searched for clinical trials, but she could not find one that matched his profile. She arranged for compassionate use of an investigational medication, then had to discontinue it when Smeeding developed a hemorrhage inside the tumor.
"We do not do one-size-fits-all treatment," says Kong. "We made the treatment best fit him."
A team effort
The treatment Kong helped devise involved a highly experienced team:
Neurosurgeon Dr. Jefferson W. Chen, who specializes in neurosurgery, neurocritical care and neuro-oncology, performed life-extending neurosurgery when other surgeons declined to operate.
Radiation oncologist Dr. Jeffrey V. Kuo directed treatments that required special expertise because of their precision and intensity.
Nurses and others routinely went the extra mile for Joe, especially oncology nurse Michele Willett, his mother recalls.
"The hard part of cancer treatment is the coordination of care," Laubacher says. "There are so many moving parts — catheter access, getting labs, infusion. It just became too difficult to get from the desert to the doctor. So Joe and I moved into a hotel room across from the medical center in Orange.
"We lived in a bubble of each day being the best, with him always keeping a smile on his face and holding onto the belief that he would beat this thing. He once told the clinical social worker at the cancer center, 'Being treated here for cancer is much better than what I experienced as a psychiatric patient in another hospital!'"
Staying positive, living life
Through it all, the Smeeding family lived their best possible life. In April 2017, they all travelled to Phoenix to see the Final Four teams play in the NCAA Men's Basketball Tournament.
"At the time, we were in full-court press to find something to arrest this thing," says Laubacher.  "He was wearing an eye patch and using a wheelchair because his gait wasn't steady. But no one had a better time at that tournament!"
On Jan. 12, 2018, nearly two years after being diagnosed, Joe Smeeding lost his battle with brain cancer at age 26. He watched an NCAA Syracuse basketball game the night before he died.
"I realize Dr. Kong gave him not just weeks, but months — months we wouldn't have otherwise had with him," Laubacher says. "She was so tenacious. She was always looking for options. In the end, we got the best care. All the UCI Health providers did everything they could do to help him."
Friends and family inked tattoos in Smeeding's memory. His father says people still tweet about him.
"He was a good person, a lot of fun. Funny. Kind. He made people laugh; made them feel good about themselves. He was also smart as a whip. He would have been a good professor," says Tim Smeeding, who serves as the Lee Rainwater Distinguished Professor of Public Affairs and Economics at University of Wisconsin.
A tribute to Joe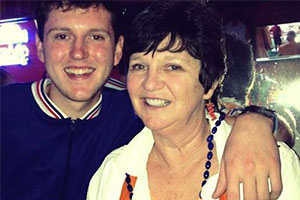 Mary Ann Laubaucher.
Thanks to a National Academies of Sciences, Engineering and Medicine committee, Joe Smeeding's name is immortalized in National Academies research. Tim Smeeding had served alongside Greg Duncan, a UCI School of Education distinguished professor, on a National Academies committee assessing the most effective means for reducing child poverty.
Unbeknownst to the elder Smeeding, Duncan, as committee chair, led members in a unanimous vote, dedicating the final report to "Joseph Smeeding, a bright young doctoral student at the University of Arizona …"
Since Joe's passing, the family has established funding to support things that mattered to the former intramural basketball player and future economist. They gifted his brain to UCLA for research. And at UCI, they opened the Joseph Smeeding Brain Cancer Research Endowed Fund.
Every dollar donated in Joe's memory helps to shape a legacy he didn't plan to leave, but one that could ultimately extend life — perhaps even produce a cure — for people with brain tumors. To date, the fund has raised more than $50,000 and continues to grow.
Laubacher has since retired and is adjusting to life without work and without her youngest son. But she can feel that "he is always there, arm draped over my shoulder, grinning with the exuberance of life and just being Joe."
If you would like to honor Joe Smeeding's memory, consider advancing brain tumor research with a gift to the Joseph Smeeding Brain Cancer Research Endowed Fund.